Ventilation Services in The Woodlands & Conroe, TX
Expert Services Delivered Fast to Customers throughout Humble & Houston
Did you know that about 90% of houses built in North America do not possess proper ventilation in their attic? Unfortunately, many homeowners today are simply unaware of the fact that their entire house's lifespan is being significantly shortened by the lack of attic ventilation. Shockingly, during the midst of the summer months, an attic's temperature can rise to over 160 degrees. This is because heat rises, but there is nowhere for that trapped air to go. As a result, your house's infrastructure faces incredible heat during the summer days, and the constant exposure to the Texas sun causes your rafters to become brittle and frail. When winter arrives, your house's already damaged structure is even more susceptible to the cold air.
If your house is suffering from poor ventilation, you need to quickly contact our The Woodlands * Conroe, TX roofing contractors at T. Williams Roofing. No matter what, we are immediately ready to give you a supportive hand in tackling these issues.
Call us today at (832) 894-7663 for reliable ventilation services in The Woodlands, Conroe, TX or the surrounding communities in the Greater Houston area.
Problems Caused by Poor Ventilation
Having a bad ventilation system is a serious business. Not only is your roof bound to get extremely hot, but this issue only creates further problems as well.
Types of damage that often result from poor ventilation include:
Your roofing system will suffer from premature aging, including shingles becoming fried and worn
Wood framing becomes cracked or warped, and buckles or even breaks under pressure
The paint of both interior and exterior walls, along with siding and wallpaper become damaged
Your heating and cooling costs will dramatically increase over time
Types of Ventilation Systems
For a roof to function optimally, it needs to have the proper intake and outtake. In most roofing systems, the intake will come from the soffits underneath, and the outtake will come from the ridgevent across the peak. While there are special circumstances in which a box vent, turbine, or solar-powered attic fan may be a good option, ridgevents are generally the most highly recommended solution. Furthermore, ridgevents cannot be combined with any other type of outtake, as it will disrupt the airflow and could result in ventilating as little as 10% of the air in your attic. While the specifics can be complicated, our team has everything you need to ensure that your ventilation system is fully optimized!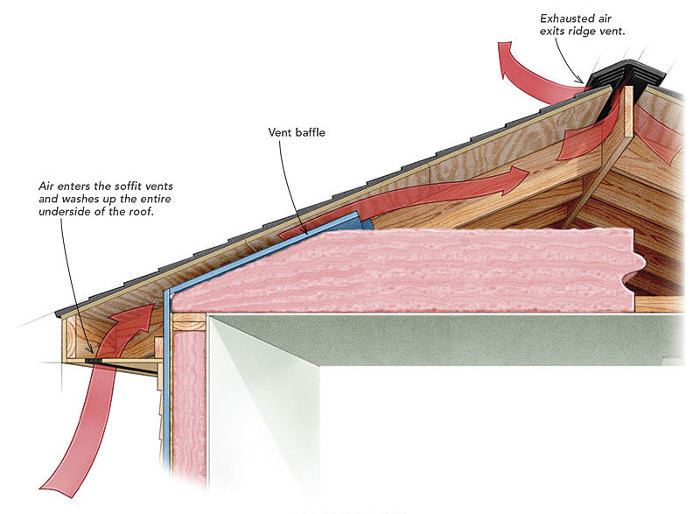 4 ways to properly ventilate your roof. These exhausts should NOT be mixed under any circumstances
4) Attic Fans (plug-in and solar)
Support from the The Woodlands Ventilation Experts
When your home's safety is as stake from poor ventilation, you need to entrust professionals to get the job done right. Our ventilation team in The Woodlands & Conroe, TX is highly trained to replace your current ventilation system or make minor repairs.
We treat every job as if it were our very home. Know when you go with T. Williams Roofing, it's just another task off your checklist. Contact our The Woodlands roofers today for a free estimate on ventilation services!